Delivering Unmatched Quality on Time
When your application depends on quality, we have a solution – without a doubt. Our one-of-a-kind approach to short run metal stamping is designed to deliver the parts you need, regardless of complexity.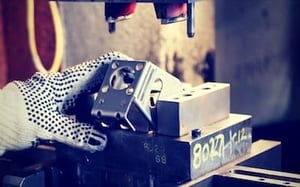 This proven approach:
Is built on decades of engineering and production experience
Offers one of the best-equipped stamping facilities for single stage, progressive and turret press stamping
Can include customized modular tooling or accommodate customer tooling
Uses unique press fixturing to eliminate costly tooling design and die sets
Meets the demands of runs as small as one piece and as large as 500,000 pieces
Allows for storage and maintenance of dies between runs, at no cost to you
Overall, our approach to short run metal stamping guarantees you receive a custom, reliable and timely stamping solution delivered by a team of experts.
In addition, our secondary services can simplify your planning and production. These services include deburring, machining, drilling (tapping and countersinking), welding, final assembly and plating – and more. From the smallest run to the most complex, our engineers, tool-and-die makers and quality controls ensure your parts are on spec and on time.