Attention to Process, Quality and Customers
Many of our customers provide open feedback, referrals and repeat business to show how confident they are in our abilities. Much of that confidence comes from knowing that we always meet or exceed both international and industry-specific specifications.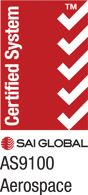 ISO 9001: We're proudly ISO 9001 certified, which means our quality management systems can meet the stringent demands of today's customer. This rigid international standard also ensures our parts and services meet tough regulatory requirements.
AS9100: Neway is also proudly AS9100 certified. AS9100 certification is awarded for meeting or exceeding the exacting quality standards of the aviation, space and defense industries.
Click here to view a copy of our ISO 9001 and AS9100 certification.
As a member of the Precision Metalforming Association (PMA), the trade association representing the $137 billion metal forming industry of North America, we have access to cutting-edge research, educational opportunities, networks of experts and all the benefits of the leading industry organization.
These certifications recognize our history of excellence and our commitment to the future of our industry and our customers.